1B) MY PROFILE
Typically, you will set up your
PROFILE 1 time and then forget about
it. Enter your photo, name, title, email,
and preferred phone number.
1C) MY 1st ZINGem
The FUN starts here! Now that you
know how to navigate and your
PROFILE is complete - it's time to
create one!!
1D) SEND YOUR 1st ZINGem
Once the app CREATES your ECARD,
it gives you MANY delivery options -
from texting to emailing to social
media…
YOUR NEW 'BIZ ECARD'
You'll keep this

GENERIC

ECARD link
on your smartphone homepage to
SEND to anyone interested in your
business!
STAY 'CONNECTED'
Send PERSONALIZED Happy
Birthday eCARDS! Let them know
you care about them as a PERSON…
SUGGESTED SCRIPT
Let this script below be a good starting
point for making your generic eCARD:
"Hi, my name is __________ and
I'd like to welcome you to
______. Please take a look at our
brief video right here, then feel
free to review our website by
touching the MORE INFO button.
Then, call me at the number right
here to schedule your first
appointment! I look forward to
your call!"
EASY & EFFECTIVE!
Texts are opened 10X sooner and far
more often than emails… this is a VERY
EFFECTIVE delivery means…
COMPELLING EMAIL!
eMail still dominates a LOT of corporate
communication… now, your EMAIL
CONTENT improves exponentially!
ECARD W/EVERY EMAIL
Your email signature is the PERFECT
place to put your GENERIC eCARD!
That way, every recipient sees/hears it!
SOCIAL MEDIA W/LINKS…
Social media is great for
DISTRIBUTION - and now, finally,
you have GREAT content to
distribute!!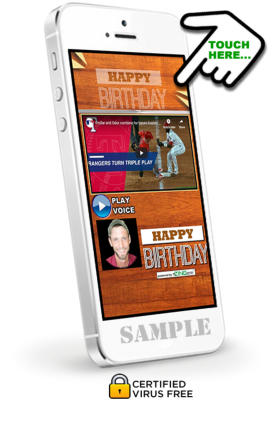 1A) NAVIGATION
(After this video, if you still have ANY
trouble finding your custom ZINGem
eCARD template, just give us a call.)